An integral part of RJ Metalworks, our brand RJ Debit Express offers you global custom sawing solutions and services for all metals. We offer the highest level of quality and the best lead times thanks to our experienced teams and highly efficient machinery.
All metals :
From one-offs to large batches, with no limit in weight or size, straight or angled cuts, we can cut any metal anyway you want it :
Aluminium
Ordinary steels
Construction steels
Tool steels
Stainless steel
Titanium
Nickel and cobalt based super-alloys
Non-ferrous metals (copper, bronze, brass…).
Our services :
RJ Debit Express only uses band saws or milling cutters to avoid thermal shocks and altering the molecular structure if the metals or alloys being processed.
Cutting out or sawing to aviation formats
Sawing to comply with drawings
Sawing of blanks for machining
Trimming of cast blanks
Sampling for tests
Angled cuts
Cutting to length for forging and drawing
Cutting to format for re-melting furnaces
Cutting of aluminium profiled sections
Industry types :
We work for many large companies in different fields of industry :
Aerospace
Metallurgy
Nuclear energy
Petro-chemical
Railway
Urban furniture and fittings
Mechanical engineering
Defense
Cutting of aluminium profiled sections …
SOME OF OUR MAIN EQUIPMENT
Automatic cycle band saws (medium and large batches) :
Amada 250 HA (Cutting capacity: 250 X 250 mm / Bar length 6 000 mm)
Missler 410 (Cutting capacity: 410 X 410 mm / Bar length 12 000 mm)
Kasto 520 (Cutting capacity: 525 X 410 mm / Bar length 15 000 mm)

Amada CM 100 NC (Cross section to be cut: 

∅

 20 to 110 mm, 20 to 80 mm / Cutting length from 5 mm upwards)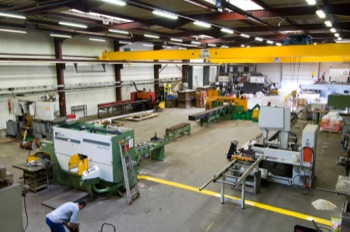 High capacity band saws :
Kasto 660 (Cutting capacity: 675 X 675 mm / Length: 6 000 mm)
Kasto BBS U3 X6 (Cutting capacity: Height 420 mm X Neck clearance 660 mm)
Kasto BBS U8 X 20 (Cutting capacity: Height 925 mm X Neck clearance 2 115 mm / Cutting length 6 000 mm)
Very High capacity band saws :
Danobat 2060 TV5 (Cutting capacity: 1 600 X 2050 mm / Length 10 000 mm / Weights up to 20 tons)
Semi-automatic cycle band saws (one-off cuts and small batches) :
Kasto 280 SBL (Cutting capacity: 280 X 350 mm / Bar length 6 000 mm)
Kasto 360 (Cutting capacity: 360 X 360 mm / Bar length 6 000 mm)
Band saws for angled cuts :
Kasto diagonal (Cutting capacity: 300 X 300 mm / Angle variable from – 30 à 45° / Bar length 4 000 mm)
Kasto Vericut U (Cutting capacity: Max. bar length 12 000 mm)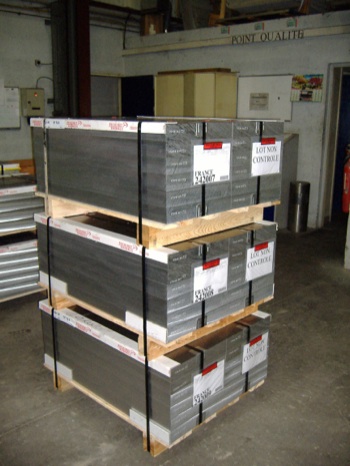 Aluminum machines :
Elumatec circular saw (for cutting profiled sections)(Cutting capacity: 245 X 110 mm & 300 X 50 mm / Length: 6 000 mm)
SMID 800 circular saw (Max. plate length: 6 000 mm / Width 4 100 mm / Thickness 170 mm)
Band saw Neck clearance (Cutting out) :
Doall 400 saw (Cutting height 260 mm, Neck clearance 400 mm)
Doall 1 500 saw (Cutting height 450 mm, Neck clearance 1 500 mm)
Materials handling & lifting :
3 overhead satellite cranes (1 ton)
2 overhead cranes (6.5 tons)
1 overhead crane (25 tons)
1 fork lift truck
Related services :
In addition to our cutting services, we can also offer you integrated service solutions :
Finishing process (drying station and vibrating burr removal)
Weighing (from 1 gram to 5 tons)
Marking (branding, ink printing, dot marking machine)
Weld chamfers